We did it!  We rented a 30 ft RV and drove over 3,700 miles!  We traveled over plains, mountains, desert and hills.  We saw Mt. Rushmore, The Lincoln Museum, Santa Fe, NM (the Original Santa Fe Trail), The Old "Route 66" and even an Monastery in the mountains!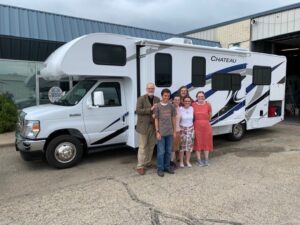 On this show, first I talk with a listener who tells us his story of "Dad-genuity at 30,000 feet".  John Yellico contacted me about his story of changing a diaper while on a commercial flight.
Next, while on our RV odyssey, we camped at the only RV campground along Route 66, in Illinois!  I set up equipment on a picnic table next to the RV and chatted with the owner of Double J Campground, Randy Greenman and his daughter, Abby.  He and his wife and their 2 daughters, decided to chuck it all (he was in banking) and buy an RV Campground to live the RV life 24/7!
Finally, we journey into the mountains of New Mexico.  Up into the Gila National Forrest to land at the Our Lady of Guadalupe Monastery!  YUP….the long robes, the funny haircuts, Gregorian Chant….the works!  I talk with Brother Brendan about the works going on there.  They make money buy roasting and selling their own coffee, Abbey Roast Coffee and it is like no other I've ever tried!  We also talk about life at the Monastery.  It's not a fatherhood or dadly subject, as we always do on Radio DAD…but, it was part of our family trip and something to think about on your own family trip.  Try to get off the beaten path and visit at least one place that's not set up for tourism (although the monastery does accept visitors at certain times).
ENJOY our Radio Dad Road Trip!